For sale direct from the owners for £1500 as it stands Buyer arranges collection .
GCL billiards do not own this table you are buying direct from the seller , no middle men or auction fees to pay .
A set price which we think is very fair .
Rare to find in barley twist leg form , many variations from straight square turned , cabriolet and ball and claw , but the barley twist one is one of the rarest to come up for sale .
Try and find another for sale , you may find the odd one but they are not falling off trees in barley twist leg form .


the table in the up position , the playing height is raised up on four brackets which also have the facility to turn screw up and down for levelling .
note the barley twist legs design , very rare to find them for sale .
this table is a 7ft and should have a serial number starting A7 stamped under each table top leaf .
A stood for Accrington where Riley had their Factory , and the 7 is the size of the table , numbers after A7 are the real serial numbers of the table .


Superb wood grain to the 5 table tops when placed on and lowered for dining height .
this is all solid Oak no veneer rubbish and has been in this family for many years passed down from Generations before .


another angle showing the 1/4 sawn oak , when you see this oak pattern you know it was selected for its grain to show upper most .
again shows the table is Solid oak and not low cost veneer , what would it cost today to have one made from Solid oak wood with those rare to find Barley twist legs .


still playable with this cloth on , but it would look better with a  re-cloth and maybe new bag nets and leathers .
the woodwork you could just bri wax up , I find if you fully renovate you take all originality and makes the table look a modern replica
also it is very expensive to have one stripped stained and re-polished .
and it just just not need this in my opinion .
may require a few bolt cover leg buttons which seem to be missing in the photo s , unless the owners still have them knocking around .


A few accessories are with the table , I do not know if it has an original riley  scoreboard ?
the one in the photo is not what was original to the table when new from Riley's .
but I see these riley diner scoreboards all the time on Ebay   see here
https://www.ebay.co.uk/itm/185250017168?hash=item2b21c2ef90:g:lWgAAOSwxB5hww~G
the original would be something like this if they have one but in Oak , they also did one a bit more squared off too .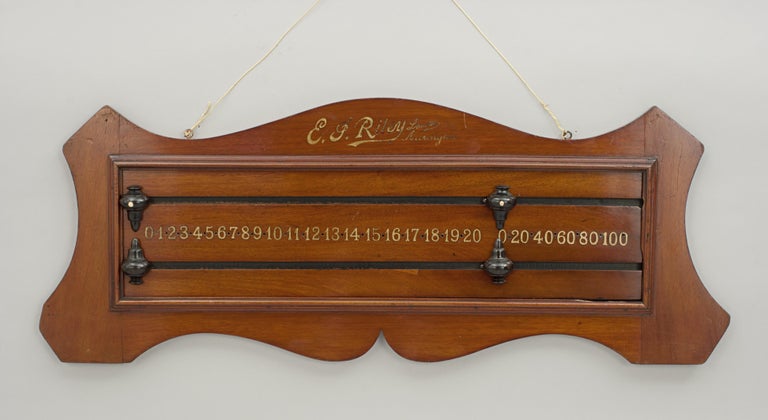 So there you have it a rare to find Barley twist 7ft version of this well known Raise and fall Dining table design .
I would think the table was made between 1900 and 1967 , but I would say circa 1920/30s .
lovely piece of solid oak furniture that has a dual purpose and a delight and conversation piece for visitors .
I have had a few myself over the years , and have one in 6ft form with cabriolet legs in garage as we speak in mahogany but not as nice as this 7ft version , which I must get out and also advertised too .


the end slide in cushion panel you can still see the E J RILEY transfer  .
it would be shame to strip it down to bare wood and make it look modern and no age to it .
just wax it to bring it up a bit and show its age small buckle marks as well .
Remember the price is for the table with accessories , this is not a delivered price and is a private sale direct from the owners
buyer arranges dismantle and collection .
if you want more information and different styles of legs that where made on this riley designed and manufactured table
showing differ Nat design quirks .
copy and past this to read.
Riley Billiard / Snooker diner , a pleasure to work on this rare Barley twist oak snooker table . circa 1930 / 50