Fast becoming the go to cloth for pool players and some snooker players too
If you are in the market for a re-cloth and are looking for a special colour match then have a look at our Hainsworth range of cloths and colours .
here are a few recent tables re-clothed in Hainsworth cloth , in the grades of Match , Smart and Elite pro .


This client has a Hainsworth Match cloth in Green fitted in his Garden pool room at the bottom of his Garden around every 6 months
Air conditioned too .
Very fine napped match cloth , available in green , also available in Special order in  Blackball Powder Blue or Funky chalk Silver Grey as an higher priced option .


Looks inviting this Hainsworth match in Paprika near Derby , looks orange but more like Burnt rust in the flesh
the lighting on this table makes it appear to look two tone but it is not .


an outdoor table near Leicester , this clients knows what he wants and ordered the Hainsworth Elite Pro speed cloth
no nap and thin and ideal for outdoor tables as it is a 70% wool /30% man made fibre cloth .
less likely to absorb damp air if you use this type of cloth , and keeps the ball moving quicker .
A very fast cloth .


Hainsworth smart in Purple used on the 9ft Billiard table in Norfolk .


and also Purple Hainsworth smart for this pool table in Worksop .
Hainsworth smart has the most colour options to choose from , a Interior designers dream to use the colour chart .


Hainsworth smart in Sage Green , a slight lighter shade difference to the walls in this home near Nottingham
but blended in well .


Special Edition  order Hainsworth match in Powder blue , for my good mate Jules near Newark .
another who has his table re-clothed after every  6 months or so .


A Full size snooker table re-clothed in Hainsworth smart close to  Ashbourne


Hainsworth Elite pro speed in Blue . near Wolverhampton , for a top end player .


Hainsworth Match cloth,  to full size match play Riley aristocrat in Chilwell Nottingham .


Did you  know that Hainsworth now also own the Northern rubber company in Retford Nottinghamshire .
Manufacturers of the finest match play Cushion rubber in fact no 1 choice for L shape rubber .


Hainsworth smart in black with Jack Daniel's logo in Leicester .
it is very expensive to have logos on cloth .


Hainsworth Elite pro in Red . and colour chart below .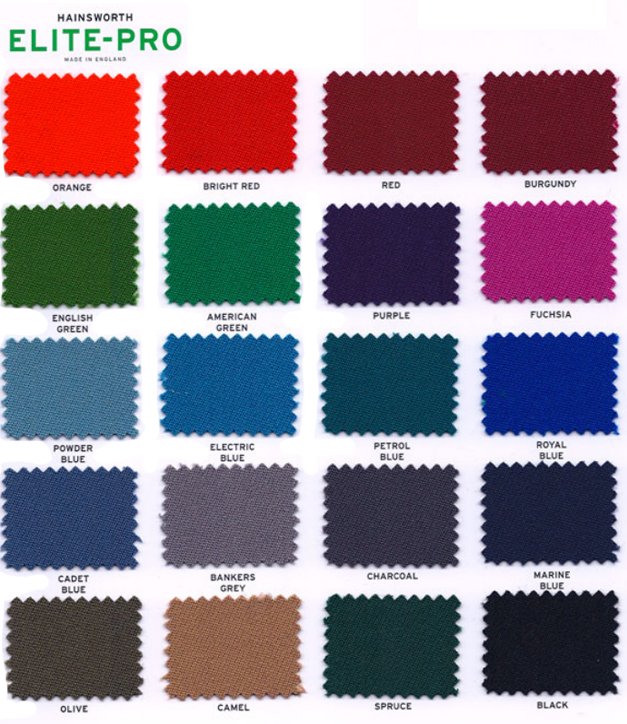 Hainsworth smart in Gold on a pub table in Nottingham .
Not one of my personal colour choices as it gets  dirty very quick .


Some of the most popular colour choices shown above .


Special order packs of Powder blue or Blackball blue if you prefer .


Black Super pro speed at derby county training ground .


Black super pro speed on this nice two toned Sam K Steel 9ft American pool table in Edwalton Nottingham .
The client also had me re-rubber and the result was very pleasing for our client who left me some very good feedback .
a few Feedback left by clients .
Absolutely delighted with the work done by GCL on my Sam K American Pool Table. Recovered, new rubbers and levelled, it's never played better. A friendly professional service that I would not hesitate to recommend.
Had a recover, new rubbers, netting etc. on our 12 ft Snooker table. Geoff did it within 2 days and it's like a brand new table. The slates are no longer off balance and the balls now go straight. Geoff was very friendly and certainly knows his craft. Will be coming back to Geoff if it needs any more work doing in the future.
Totally professional man who absolutely keeps his word. Full of free and very valuable advice. Came all the way to the South of France to set up my full sized Riley Aristocrat table which was out of his very busy schedule. He was also very helpful in sourcing my table and dismantling it professionally. Very fair charges as per quotes. Excellent communication. Aways answers phone or calls back quickly. Very highly recommended.
fantastic workmanship of the highest quality. Geoff is reliable, professional and value for money.
Geoff is an expert in his field, who shows very good attention to detail – really pleased with the job he did relocating and setting up my snooker table
So if you are looking to have any work done on your cue sports tables , please contact Geoff Large at GCL Billiards
vast colour range in Hainsworth cloths and come highly recommended not only by Geoff himself but the people who matter , the owners and players of the tables .
GCL Billiards is also a Hainsworth FIT LIST listed fitter .
one of a select few Billiard Fitters that Hainsworth recommend themselves .